Leaded paint and gasoline, long since retired from use in the United States, have left behind a reminder that they were once common. Their legacy is lead, a natural metal element mined from the Earth for use in many consumer products. Because it does not breakdown, most of the millions of tons of lead added to products during this century is still in the environment, contaminating soil, water, air and our bodies.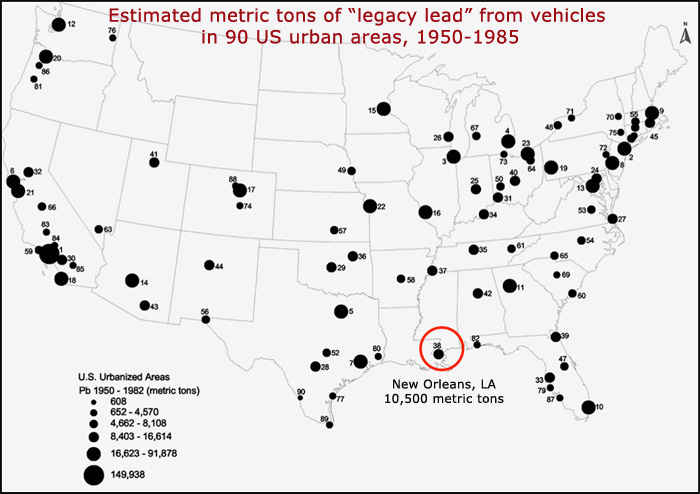 Lead-contaminated soil, found almost everywhere, can have severe health risks. Children and adults inadvertently touch, breath and eat lead-soil from inside and outside sources. Its accessability makes it a bigger lead-health threat than leaded paint and a major, if not the greatest, source of childhood lead poisoning in the United States
1
.
Risk of lead poisoning varies and depends on several factors. Boys are at higher risk than girls. Poor children, who may lack proper nutrition and live near bare soils, are at higher risk than middle-class and wealthy children. Minorities face more risk than whites. Inner-city dwellers, especially the poorest and youngest, face the highest risks because of multiple exposures from lead paint, soil, air and improper nutrition. Contaminated soil and the associated health problems became well-known after an expressway in San Francisco collapsed during an earthquake. Children playing in the soil next to the broken structure were lead poisoned. The soil, in this case, tainted from decades of leaded gasoline use, contained many parts per billion (ppb) of lead. Just 10 ppb in blood is considered dangerous to children's health according gudelines from the Centers for Disease Control.